Sustainable development represents an effort to create a better world balance of social & economic conditions and environmental factors. The harmonious balance between the environment and economy is a condition to preserve the natural resources of our planet for future generations. On the long-run, sustainable development means that wealth, resources and opportunities are spread in such a way that all citizens can enjoy at least the minimum standards of security, human rights and other privileges.
Sector for infrastructure and sustainable development of RDA in the framework of its activities carefully studies the situation in the region, creates a database of sustainable long-term infrastructural projects and provides ongoing support to local governments in developing project ideas.
T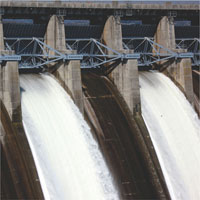 he basis of a 'bottom – up 'approach is creating a strategic document to begin with which is why this sector is dedicating all its efforts in creating an overall regional strategy for sustainable development as a starting point for all project ideas to come. In line with the strategy, continuous information gathering on available funding is performed, project proposals are prepared and progress in project implementation is carefully monitored. The sector operates as a unique service for the region in terms of support it provides to the local governments with a special emphasis on activities related to promotion and marketing of the entire region.